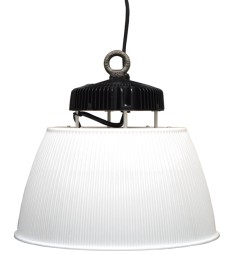 Global Tech LED Offers Free Demo of Gemini LED High Bay to All
Bonita Springs, FL, January 23, 2017 (Newswire.com) - ​Six months ago Global Tech LED, manufacturer of USA made LED lighting products, released their flagship LED high bay line, the Gemini. Global Tech LED announced today that they are offering risk free 30 day trial demo to anyone interested.
Global Tech LED developed this high bay to have high performance and high quality yet is cost competitive in the marketplace. They succeeded. Now, half a year later this fixture has proven itself the highest value per dollar LED high bay fixture on the market today. The Gemini is made in the USA, comes with a 10 year warranty, and is easily customized to the location by providing a series of customization options that Global Tech LED is known for.
The choice of optimized optical lenses distributes light at the target area. Unlike other high bay fixtures on the market that flood light everywhere including where you do not need it, the Gemini targets the floor giving the perfect lighting producing no wasted light and therefore energy. These optics shape the light to provide high quality illumination on everything from open loading docks and gymnasiums to warehouses with tall aisle ways.
Global Tech LED offers more kelvin options than any other company on the market making sure you have the correct lighting for the application. The Gemini also has a choice of clear acrylic, white polycarbonate, or no refractor. You also get a range of wattage to work with. The workhorse of this LED high bay fixture is the tried and true Solstice module that Global Tech LED uses in all of their lighting products from retrofit kits to indoor and outdoor fixtures. Running at 75W-135W he Gemini houses the original Solstice 5498 and weighs just over 10lbs. When running 200 or 240 watts houses the Solstice Titan 112 LED module and weighs 13.8lbs.
There are many benefits to quality LED lighting for high bay applications. The first and most obvious is the High Efficacy. The Gemini provides over 100 lumens per watt making it a big energy saver. That brings us to the second benefit; energy conservation.
Everyone knows that LEDs use less energy than their ancient counterparts, but the gemini also runs cool. Actually, the Gemini LED high bay runs super cool. The more heat is produced the more energy, and thus money, is being wasted. The cool running fixture also has a positive impact on air conditioning use, lowering the energy needed to cool the area by up to 15%. This adds to the energy savings when switching to LED lighting.
"Controls" used to mean an on/off switch, for the most part. With the Gemini, 0-10v control systems can be connected for the highest level of control on the market. From dimming to occupancy sensors and computer to smartphone systems, the Gemini can connect to it all. It's great to save 70% on lighting cost but when you can turn the aisle light off in a warehouse when there is no one working in it the savings can be astronomical.
Longevity. Protecting your investment is a smart thing to think about. There are a lot of bad stories out there about when someone bought a low quality LED system and it didn't last. Unlike those, the Gemini comes with a 10 year manufacturer warranty and has a lifespan of over 100,000hrs. That means it will run for over 22 years at 12 hours a day usage.
As if lower lighting and air conditioning bills weren't enough of a benefit, LED systems have extremely low maintenance required. Everyone in charge of HID lighting knows that maintenance is a huge cost. Replacing HID high bay light bulbs requires lifts and electricians and they go bad every year. There are also bulb disposal fees because the chemicals inside are hazardous. It becomes very costly to maintain HID lighting. LED systems, including the Gemini, are different. In most circumstances, they reduce maintenance costs by over 98%!
LED lighting has many aesthetically pleasing qualities. First is the high quality, consistent, light color and color rendering. Spaces look reborn under LED lighting. The second is instant on technology. HID systems take 30+ minutes to turn on and fully light a space. LED systems come on instantly. The Gemini has a smooth ramp up over the course of 5 seconds easing you into a brilliantly lit environment fast.
There are many amazing benefits to switching to LED high bay lighting, and just as many benefits to using the Global Tech LED Gemini High Bay fixture over others on the market. Global Tech LED is so confident in their lighting products they offer free demos! Use the light for 30 days to see its brilliance for yourself. Risk Free. For more information on Global Tech LED lighting products go to www.globaltechled.com. Better yet, pick up the phone and give them a call at 877.748.5533 for information or to find a distributor near you.
Source: Global Tech LED
Share: