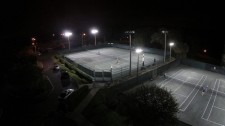 Cutting Edge LED Systems create Professional Grade Lighting on Any Court
Bonita Springs, FL, December 21, 2016 (Newswire.com) - Municipalities and private tennis clubs are looking for sustainable and environmentally smart LED Lighting Products and Global Tech LED's new sports lighting solutions are the latest rage. Just look at these amazing retrofit projects of both Indoor and Outdoor tennis facilities using the latest LED technology! GTL LED products maximize tennis court light levels while simultaneously eliminating glare and minimizing costs.
Global Tech LED's USA made sports lighting systems increase visibility of the net, baseline and service lines, as well as helping players respond quickly to drop shots, serves, etc.
Outdoor city tennis courts must take into consideration nearby neighborhoods and homes, and avoid excessive light penetrating adjoining properties. Global tech LED's superior optics eliminates light pollution and delivers light specifically on to the tennis court and not the surrounding area.
In many cases, we can use the existing lights and retrofit your current fixtures, both indoors and outdoors with our world famous LED Retrofit Kits. This cost effective strategy reduces the initial cost and disruption to your facility.
Wireless Controls help manage scheduling with the flick of your cell phone! You can also adjust light levels and dim to provide even more savings on electricity.
For tennis court LED lighting, Global Tech LED leads the way. Headquartered in Bonita Springs, Florida, call 954-639-6997 for your local rep's contact information and more on tennis court LED lights.
Source: Global Tech LED
Share: