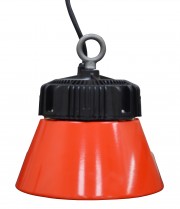 Global Tech LED releases the new and innovative low-cost Atlas LED Fixture in a variety of colors and mounting options. Available in 30W - 135W for producing the perfect lumen output for any application. Made in the USA, this Fixture is an excellent replacement for High Bays or Low Bays in architectural applications with its sleek profile and virtually any color variation with an RAL#. RAL#'s can be found at www.RALcolor.com. On-board microcontroller prevents overheating and extends LED life.
Bonita Springs, FL, January 8, 2016 (Newswire.com) - ​​​New Product Introduction: Global Tech LED Atlas 135W High Bay ― highly engineered low energy, high performance replacement for HID High bay and low bay applications.
Design: Global Tech LED product design and engineering team.
Manufacturer: Global Tech LED. A U.S. Company whose LED modules are made in the USA.
Product Application: Atlas 135W High Bay can be used anywhere a high lumen, high performance Indoor fixture is used, which includes High Bay and Low Bay warehouse applications, Manufacturing and Maintenance areas, as well as Decorative areas where aesthetics and performance are key.

Atlas 135W High Bay produces over 13,000 lumens of high CRI light with optical distributions designed for your application. The low cost/high performance provides for a high ROI and cost effectiveness. GTL's patented Life Sync technology provides long life and performance by adjusting the fixtures drive current to provide 100% lumen output for the first 70% of its rated life, while protecting the LED Engine from operating outside its design parameters.
Product Description: Atlas 135W High Bay represents state-of-the-electronic-art in lower energy, longlife, high performance LED lighting for decorative and non-decorative applications

LED optics available in a range of eight choices. Optics concentrate the beam of light so performance is optimized Each fixture has a tarnish-resistant, durable dome-shape suspended direct-downward light housing.
Available for 120-277V line input. Built-in electronic LED driver employ constant-current technology to help ensure long operating life of over 100,000 hours.

Unit Construction: Atlas 135W High Bay employs a custom rigid circuit board. Each module features a microprocessor with Life Sync Smart programming for module protection and consistent light output over the life of the module. Units also employ over-temperature and under-voltage protection, in case of utility brownouts or shutdowns. A built-in active vortex heatsink is located directly behind the circuit board for optimal cooling, further extending life of the LED module.

All Global Tech LED Atlas 135W High Bay luminaires have UL, CUL listed lighting-system components; meet CE European Union standards; are RoHS compliant; dimmable; proudly made in the USA by Global Tech LED and fully compliant with ARRA Buy American requirements. Atlas 135W High Bay units come with a 10-year limited warranty.

Contact Information: Learn more about Global Tech LED products and capabilities by visiting: www.globaltechled.com. Global Tech LED is located at 8901 Quality Road, Bonita Springs, Florida 34135. Telephone: (877) 748-5533. E-mail: info@Global Tech LED.com.
Share: