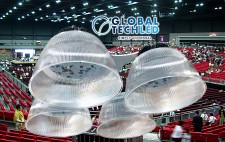 Scale Up the Light Output with Global Tech LED's New Pro Bracket for Up Lighting and Down Lighting Featuring Beautiful Sleek Industrial Design and Super High Output Capabilities for Arenas, Convention Centers, Airplane Hangars, Indoor Sports, Warehouses, and the like.
Bonita Springs, FL, October 12, 2016 (Newswire.com) - Global Tech LED, a world leading manufacturer of USA made high output LED retrofit kits and LED fixtures, announced the new Pro Bracket mounting system for high bays, down lights, and up lights. This mounting system is brilliantly engineered to allow multiple fixtures to hang from one mounting location.
The new bracket has the option of mounting 2, 4, or even up to 6 fixtures from the sleek industrial central hub. The ability to scale multiple fixtures to one mounting point drastically increases the wattages and light outputs available in hanging applications. Compatible with the Gemini, Atlas, and EB series fixtures, the Pro-bracket is the ideal mounting system for high ceiling applications such as Arenas, Convention centers, indoor sports facilities, tall warehouses, airplane hangars and the like.
This multi-fixture mounting hub brings a world of new possibilities to any large down lighting or Up Lighting application. It is fully customizable, cutting edge, and sticks to Global Tech LED's motto: Simply Universal.

John Burns, Manager of Sales and Marketing
The new mounting system does not alter the UL and DLC certifications of the fixtures while allowing for greatly improved customization of light as well as the improved look of the aesthetically pleasing fixture hubs. Global Tech LED offers custom powder coating to refine the look of the finished build and match the style of the environment. Custom colors combined with the choices of premium quality, USA made, LED fixtures gives yet more customization to the build by allowing for the choice of clear acrylic refractors, white acrylic reflectors, aluminum reflectors, or no veil at all giving a sleek modern look to the assembly.
To learn more about the Pro-Bracket mounting system, or any other Global Tech LED products, visit www.GlobalTechLED.com.
Source: Global Tech LED
Share: