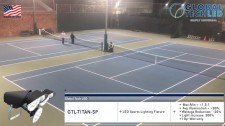 Global Tech LED's new Titan-SP Sports Lighting fixture has produced amazing results in one of the countries oldest private tennis clubs.
Bonita Springs, FL, October 27, 2016 (Newswire.com) - ​​​​​​ Global Tech LED, cutting edge USA made LED lighting manufacturer, has had international success with their state of the art LED retrofit kits and new fixtures. Recently, they have placed a strong focus on high output LED sports lighting. In the last couple of years they have blown away the competition on football fields, baseball fields, basketball courts, indoor soccer fields, indoor tennis courts, and even indoor swimming pools. Now, the powerful new Titan-SP sports lighting fixture in hand, they are taking the market by storm in the outdoor tennis industry. A new video from world class lighting distributor SES (www.seslights.com) and Global Tech LED shows the drastic improvement in lighting on one of the nation's premier tennis facilities in San Francisco using the Titan-SP LED fixture.
Energy savings in this project was not a main focus. Above all else the customer wanted greatly improved lighting on their tennis courts at night. Any energy savings seen would be a bonus. Global Tech LED ran a photometric analysis of the site to determine what fixture, wattage, and light distribution pattern was needed to reach 90Fc, the desired light level of the customer. The existing lighting consisted of 1000W metal halide shoe box fixtures (1100W including ballast draw) which was producing a modest 36Fc average on the court. Global Tech LED chose to replace the existing fixtures with 900W Titan-SP LED sports lighting fixtures resulting in an almost 300% increase in light output reaching 90Fc on the courts with a smooth max/min conformity of 1.50. The reduction from 1100W to 900W resulted in energy savings of 18% not taking into account that the new LED Titan-SP fixtures are instant on, and do not have to be turned on early to warm up, saving even more energy.
Since the tennis facility is in a residential neighborhood, precise lighting distribution with no spilled light was extremely important. Neighboring houses, obviously, do not want bright light shining through the bedroom window at night. The photometric analysis showed the best lighting called for a type II light distribution with a forward throw. This lighting distribution produces forward light without the need to tilt the fixture up towards the houses that need to remain dark, and greatly reduces the amount of spillage behind the fixture. The resulting lighting exceeded the customer's expectations and met the results of the photometric analysis producing near class I lighting on the tennis courts while reducing energy consumption and keeping the surrounding neighborhood dark. The made in the USA 10 year warranty brings peace of mind to the end user who can rest assured that they made a brilliant investment.
This is just one of many LED sports lighting success stories coming from the new cutting edge Titan-SP sports lighting fixture by Global Tech LED. Global Tech LED has posted several great video examples on YouTube of what their Titan-SP LED sports lighting fixture can achieve. Keep an eye out for more as they have been adding new video material regularly. To see all of the videos Global Tech LED has to offer, visit their YouTube page at https://www.youtube.com/user/solsticeledmodules . To learn more about the Titan-SP LED Sports Lighting Fixture visit http://globaltechled.com/gtl-titan-sp/ .
Source: Global Tech LED
Share: